Saffayar Nets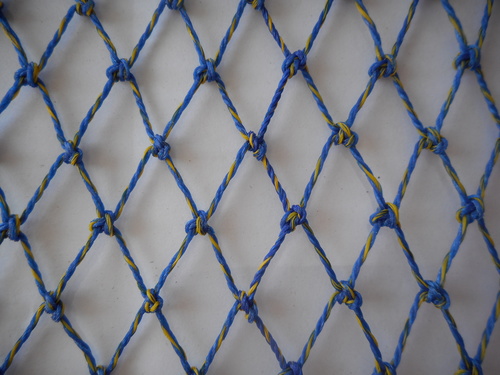 Saffayar Nets
Product Description
Saffayar Nets
| | | |
| --- | --- | --- |
| TWIN SIZE IN MM | MESH SIZE IN MM | MESH DEPTH (MD) |
| 9 Ply | 14 MM to 10000 MM | UPTO 600 MD |
| 12 Ply | 14 MM to 10000 MM | UPTO 600 MD |
| 15 Ply | 16 MM to 10000 MM | UPTO 500 MD |
| 21 Ply | 18 MM to 10000 MM | UPTO 400 MD |
| 30 Ply | 20 MM to 10000 MM | UPTO 400 MD |
| 36 Ply | 25 MM to 10000 MM | UPTO 400 MD |
Materials used:
ultra high tenacity POLYTIT yarn, extruders from SIMA, Italy.
Machine used: Nets are crafted from finest netting machines from AMITA, Japan.
Sizes: 0.30mm to 3.00mm in deniers ranging from 100 Denier to 1000 Denier and meshes from 10mm to 5000mm
Applications Areas:
Fishing

Agriculture

Construction

Sports

1. Trawl Nets

1. Bird Protection / Anti Predator nets

1. Debris Protector

1. Batting Cages

2. Gill Nets

2. Safety Nets

2. Golf Cages

3. Aquaculture

2. Crop Support

3. Fencing

3. Boundary Nets
Features
Made from Ultra High Tenacity POLYTIT Yarn.

UV Stabilized to withstand extreme climatic conditions

Better strength and longer life

Standardized and uniform mesh

Available in single, double or U knots.
Features
Made from fibers from DSM

Available in 100% HMPE and also blended varieties with polyamide, polyester and polyolefins

Various impregnations / coatings available depending on
Abrasion Resistance

Water Absorption

Stiffness Required

Manoeuvrability
Benefits
Optimal knot strength

Improved Abrasion resistance

Better sinking speed

Additional bulk where required

Technical Specification
| | |
| --- | --- |
| Material | HDPE |
| Colour | Blue |
| Packaging Type | Plastic Bag |
| Usage | Bird Protection Net |